The Regional Mental Health Services Coordination Office provides Mental Health First Aid training to Counties, Organizations, community groups and the public in general.  We have instructors certified in ADULT, YOUTH, PUBLIC SAFETY, COLLEGE/HIGHER EDUCATION, and OLDER ADULT curriculums.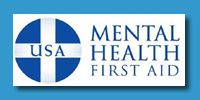 MHFA & Regional Mental Health Services Coordination Office
Mental Health First Aid Training is an interactive training which introduces an overview of common mental health problems, and teaches the typical signs and symptoms and risk factors associated with mental health disorders such as:

◦ Depression and Mood disorders
◦ Anxiety disorders
◦ Disorders in which psychosis occurs
◦ Substance use disorders

The curriculum also reviews risk factors and warning signs of mental illnesses, builds understanding of their impact, and overviews common professional and self help supports. The curriculum also does address suicide and non suicidal self injury and how to help a person who may be showing signs of suicidal thinking. Like CPR, Mental Health First Aid is the initial Help offered to a person developing a mental health problem or experiencing a mental health crisis, is given until appropriate treatment and support are received or until the crisis resolves and is NOT a substitute for counseling, medical care, peer support or treatment.  


The course is 8 hours of full curriculum.

It can be delivered in one day
(i.e.: 8:00am – 5:00pm – with lunch and breaks)
or
Two 4 hour segments
(9:00AM – 1:00PM or 12:00pm to 4:30pm).  

Each training provides breaks as well.
‍
The maximum number of participants is 35 per training.

‍

Any questions regarding the curriculum or in providing training, please contact the Regional Mental Health Services Coordination Office by phone: 610-313-0924/0968 or by email: regional.mh@pmhcc.org

For more information: www.mentalhealthfirstaid.org

Thanks again for your interest in MHFA. Tory Bright, Regional Director.
Nationally Certified Instructors are authorized to teach MHFA. There are typically two trainers to cover the material. Since 2012, the Regional Mental Health Services Coordination Office "Mental Health First Aid Training Team" has been offering the MHFA curriculum (both Adult and Youth) to a variety of audiences. Our trainers have a variety of backgrounds, skill sets and multiple years of experience in teaching and training.
Most organizations who sponsor the training offer this to their employees, which may include anyone and everyone in the organization. Some organizations will offer to their community partners which they work with.
The cost of the training is very minimal. We provide all coordination with the registration, delivery of the training, and all pre-and post materials associated with the training. Materials include the Mental Health First Aid training manual for all participants, additional community resource materials, audio / visual equipment (if not sponsor available) and all pre-registration and certifications upon program completion. We also arrange for the data entry to the National Council for Behavioral Health. Food/snacks are at the cost and discretion of the sponsor. For details and specifics regarding the costs, please contact the Regional MH Services Coordination Office and ask to speak to the Mental Health First Aid Team.

‍
Find Out About Our Virtual Trainings
‍coming to
Bucks, Chester, Delaware, Montgomery, and Philadelphia Counties

‍
‍